Papayahome.com
Large Private Home on the
Big Island of Hawai'i

Peaceful, secluded, fully-equipped, spacious, non-smoking home near idyllic beaches, Hawaiiana shops, farmers market, & oceanfront cafes. Send a message via the Contact (last) page of this website for reservations, availability & more details.
This website has 5 pages - see top of page to navigate.

Located on the warm sunsplashed Kona Coast of the Big Island of Hawai'i, the Papaya Home property has several fruit trees and herbs seasonally available to enhance your home cooked meals including papaya, *starfruit*, calamansi, Thai lime, lemon, banana, lilikoi, strawberry guava, rosemary, Cuban oregano, and mint.
E komo mai, e noho mai, e `ai a e, wala`au
(Welcome, come in, come sit, and talk story)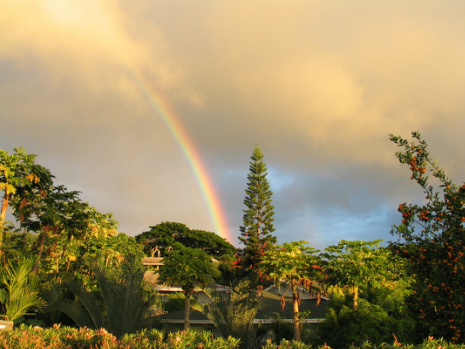 A view of a rainbow after a late afternoon shower from the front yard of the Papaya Home
Aloha oukou. Do you seek a peaceful retreat from the everyday stresses of mainland life? Or perhaps planning a family reunion, wedding or other special gathering of friends and family in a Hawaiian tropical paradise? Or merely want to experience the most beautiful, geographically diverse island in the Hawaiian chain with 12 distinct climates from the tropical rain forests of Hamakua to the deserts of Ka'u to the snow-covered peaks of Mauna Kea and Mauna Loa, historic points of interest, sunny beaches, and an active volcano? The Papaya Home in centrally-located Kailua-Kona on the leeward (west) coast of the Big Island of Hawai`i, is available for your accommodations and central starting point for all your Big Island explorations.


---
Ka makani `olu `olu
(Refreshing, perfect wind)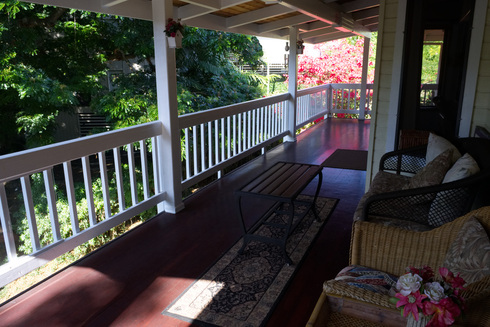 A chorus of tropical birds provide a melodious backdrop to an early morning in paradise on the lanai
Komo mai e inu ka wai. This beautiful home resides on a large, secluded property with lush tropical foliage in a peaceful neighborhood, about 1 mile from Kona town and minutes from excellent swimming, surf and paddle boarding, snorkeling and shore diving beaches, scuba diving opportunities, hiking trails, oceanfront restaurants and cafes, historic churches and palaces of Hawaiian royalty, unique shops, grocery stores, local growers farmers market. The spacious home is situated at a comfortable temperate 800 feet above sea level, on the slopes of the inactive Hualalai Volcano, with warm sunny days, memorable sunsets and cool dreamy restful nights slightly stirred by gentle mountain breezes wafting throughout this well-ventilated home.
---
Mai iloko mai. Mikana Hale no ka `oi
(That which is within, matters)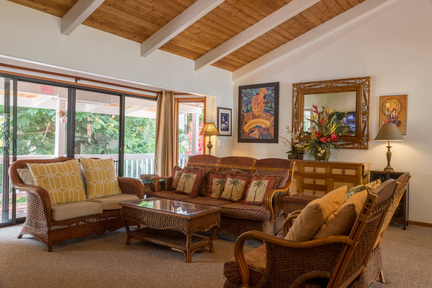 The great room of the Papaya Home on a bright sunny Kona morning
Komo mai e noho. The Papaya Home has 2,400 square feet of living space with 5 bedrooms and 3 travertine tile bathrooms on 2 floors and can accommodate up to 12 guests. The Penthouse (top floor) includes 3 bedrooms and 2 full bathrooms; the master bedroom has a high vaulted ceiling, king size bed, private bathroom with walk-in shower, and separate access to the lanai; the other 2 bedrooms (Hualalai and Papaya Room) have queen size beds and shared full bathroom. The top floor also offers a fully equipped kitchen, dining room, great room with high vaulted ceilings, and lanai with lush foliage view amid a neighboring monkey pod tree. The two levels of the home are accessed by a tall glass atrium brilliantly illuminated in the morning, by the central Pacific sun.
---
The lower floor has 2 bedrooms, 1 with a queen size bed and the other with 2 twin beds; the lower floor also has a full bathroom and living room with a day bed trundle that converts to a king size or 2 twin beds, kitchenette with large refrigerator, microwave, wet bar, and laundry room with utility sink, 2 dryers, 2 washers, environmentally-friendly detergent and static-free dryer sheets, iron and board. This home is fully equipped and ideal for families with children, reunions, large groups of friends & couples, etc. as well as smaller groups of up to 6 guests that may prefer the Penthouse.